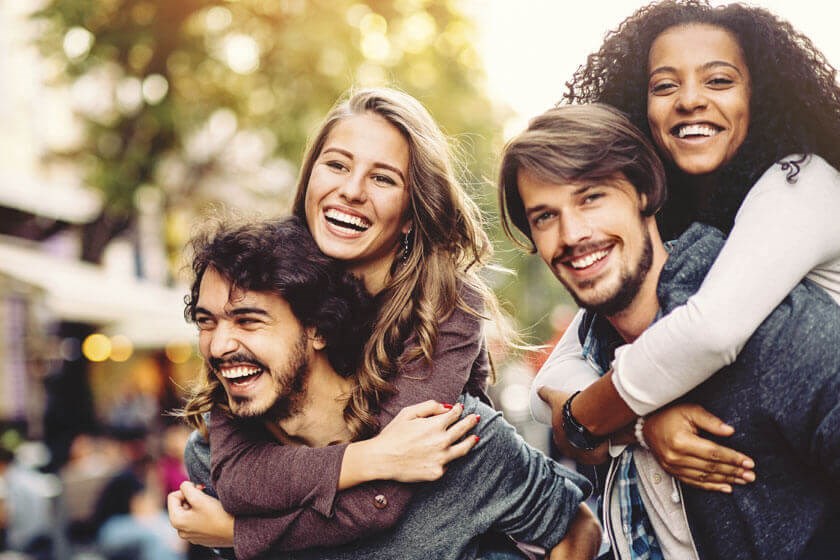 WHAT'S THE DIFFERENCE BETWEEN COSMETIC AND GENERAL DENTISTRY?
Most of your visits to your dentist are to improve your oral health. This includes oral examinations and bi-annual cleanings, in addition to procedures to fix issues such as gingivitis or tooth decay. Cosmetic dentistry is a set of procedures designed to enhance the appearance of your smile. When your smile does not seem as even or bright as you'd like, speak with a dentist in Knoxville, TN about cosmetic dentistry. At DentalWorks - NW Crossing TN, our staff is experienced in a wide range of cosmetic procedures that we can suggest depending on your objectives. If you'd like a more natural-looking smile, you might be a good candidate for teeth whitening or bonding and contouring. If you'd like a stunning Hollywood smile, you might be a much better candidate to get an orthodontic treatment or porcelain veneers. You could try out a single treatment to find out how much you enjoy the results or go all-in with a complete smile makeover. Before your appointment with a dentist in Knoxville, TN, find out if you're a good candidate and also about a few of our advanced cosmetic procedures.
BEFORE YOU GET A COSMETIC TREATMENT
Not everyone is a candidate for cosmetic treatments. For starters, your teeth need to be strong and healthy. Most dentists in Knoxville, TN won't perform an elective procedure if there are any issues, such as gum disease. This will protect you from making an issue worse. As an example, getting laser whitening if you've got an infected tooth will cause painful teeth sensitivity. However, your dentist will help develop a strategy to restore your oral health before you begin elective procedures. You should also have a home oral hygiene regimen before you start a cosmetic procedure. This can help you maintain your results.
AESTHETIC PROCEDURES
No matter what issues you have about the appearance of your smile, there is likely a cosmetic remedy for this. At DentalWorks - NW Crossing TN, we help with jagged teeth, gaps between your teeth, yellow or dull enamel, gummy smiles, and much more. Here are a few of the most requested cosmetic procedures:
AT-HOME TOOTH WHITENING
Rather than trying to guess which store-bought whitening product is appropriate for you, ask your dentist about a professional home tooth whitening kit. Your dentist will personalize your kit with the correct level of whitening product for your needs and goals. They are also able to create custom trays, which will be more comfortable and create even results.
TEETH STRAIGHTENING
Straighter teeth can help enhance the look of your smile and your oral health. With contemporary choices including clear, removable aligners, more men and women in Knoxville, TN are receiving orthodontic treatments to correct crowded or crooked teeth in addition to buck teeth, gaps, overbites, underbites, along with other issues.
VENEERS
Dental veneers are a thin ceramic shell that's secured to the front of the top and/or bottom teeth. A little transparent to give you a more natural appearance, veneers will conceal discoloration, microdontia, gaps, along with other cosmetic flaws.
BONDING AND CONTOURING
To cover minor cosmetic flaws (like thin gaps, stained teeth, jagged edges, and short teeth), dental bonding and contouring may be great choice. The dentist applies a composite resin onto your teeth and then shapes the bonding material along with your teeth for an even, smooth result.
LASER GUM CONTOURING
A gummy grin is a common concern in men and women in Knoxville, TN who want to know more about cosmetic dentistry. Gum sculpting with laser technology is done to efficiently remove overgrown gum tissue and create a better ratio of enamel to gums.
SMILE MAKEOVER
If you've got several issues, your dentist may create a custom plan of treatments for your smile makeover. This may consist of orthodontics to straighten your teeth, followed by whitening your teeth or gum contouring to fix a gummy grin. A smile makeover can include anything you want to give you a beautiful smile.
IN-OFFICE TEETH WHITENING
If you'd like whiter teeth quicker, laser whitening is a great option. The whitening gel can be painted on your teeth and then triggered by the laser to eliminate many years of stains. In one visit, your smile can be noticeably whiter.
MAINTAINING YOUR RESULTS
Once you select and get your aesthetic procedure(s), you'll want to make sure your smile stays healthy and beautiful. To begin, you should develop a good home oral hygiene regimen with flossing once a day and brushing at least twice a day. You might think about buying an electric toothbrush, which may make it easier to eliminate stains compared to a manual toothbrush. Mouthwash can also be a good addition to wash away stains and germs following a meal. Visits must be scheduled with a dentist in Knoxville, TN two or more times a year for dental health examinations and cleanings. Whenever your dental team cleans away build-up and polishes your teeth in your cleaning, it will help whiten your smile. Your dentist may also suggest products to use in your home that will match your needs and goals. They are also able to let you know whether a treatment (as an example, porcelain veneers, laser whitening, or bonding) needs to be re-done to maintain your results. For orthodontics, then you should use a retainer once your primary treatment is complete. A retainer keeps your teeth in position as your jaw and gums adjust, therefore it's very important to use your retainer as frequently and as long as your dentist recommends.
SCHEDULE YOUR TREATMENT TODAY
When you are ready to makeover your smile, schedule an appointment with a dentist in Knoxville, TN to find out about your choices. If you are trying to find a dentist with skill in cosmetic dentistry, call DentalWorks - NW Crossing TN. Our staff will be delighted to perform a cosmetic dentistry consultation and develop a treatment plan to match your aesthetic goals. We can describe all the cosmetic procedures we offer and help you determine which one(s) can help make your very best smile.